I got my Christmas cards done the other day!  This is my second year using Shutterfly for photo cards and it goes sooo smoothly.   I just upload my own photos, choose my design, customize text and push the button.  Next thing you now they show up at my door.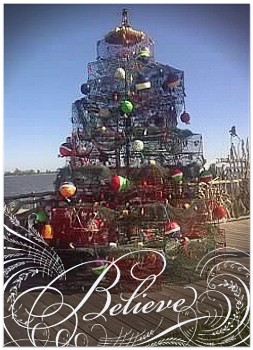 Believe Script Christmas Card
This year's design features a snapshot from Sebastian's waterfront, here in sunny FLA.  Its a christmas tree made of stacked crab traps (painted green and red) and lots of nautical themed decorations - like the rope and floats.